busybecca*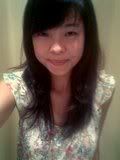 This time,
I wonder what it feels like,
to find the one in this life,
The one we all dream of,
but dreams aren't just not enough.
So I'll be waiting for the real thing,
I'll know it by the feeling,
The moment when we're meeting,
will play out like a scene,
Straight off the silver screen.
Screams

The way to love anything is to realize that it might be lost.
shops!
blackmarket 19 Jalan Pisang S199084 (along Victoria Street)
hide&seek
trolley
doinkydoodles
runway-mayhem
Thursday, June 11, 2009
oooh la la . today laughed like mad .
met E then beach again with J , K and M .
i THINK im improving . hahhas .
anyway , left at 6.30 to go shower
as E gotta rush for her forced-to-do .
so sent her to serangoon
so then we can take the new train ride !
then to transfer to amk .
but upon reaching bishan ,
she called and said that it's not today ,
so wasted !
we could have stayed longer at the beach
and have dinner tgt too !
picked AM from her work
and she introduced us
a new but stink shit experience !
chou dou fu !!
which J totally dislike it to the very cells of his body .
poor guy , we suggested to play 007
but ended up he got forfeit
and gotta eat a piece of it .
felt disgusted and covered his nostrils
and many a times of urge of vomiting .
sorry to made you stayed for supper !
tomorrow another exciting a day ,
a big group gathering !!
nights .
Sunday, June 7, 2009
argh ! still totally thinkin about it .

anyways ,
really tired .

cotton on , here i come , soon !
i want a new bikini too !

and that red bag !! gone !!
pretty bad day for me .

i miss BBBBBEEEEEAAAAACCCCHHHHIIIINNNNNGGGG
already . only that !

not happy !!!!!
argh !!!!


Saturday, June 6, 2009
beach , i love you ! see you this coming tues !
i think i have release the string .
i no longer wanna care that much anymore .
now , officially , automatically ,
me time have taken over place !
pissed !
no one sees my side of the story so let it be !
for karen !
asking me to pick a card and think about it ,
without him touching the card or seeing what i've picked
and look at his wrist , that's the alphabet of the card i picked !
it really look like he burned it on his wrist . =]
glad to know him and that he is our guest artiste , Jimmy Toge .
lotsa magic shown to us too .
anyway , this coming tues ,
im going beaching !
loves it !

Monday, June 1, 2009
anyway , here's a pic of ryan at his b'day .
loves him !
so grown up now already .
cant carry him up for long anymore .
and bought this top today !
ytd i mean .
( not a clear one )
took this pic on the way to the shop .
everywhere is having gss !
for the whole of June !!
argh ! how to save money like that !
hais .
later meeting HP , i guess .
then after that meeting Marshmallow !
gonna acc her for her pedicure !
heard from K that outram park's not bad .
hais .
sat is coming !
pics to be updated soon by this thurs or fri . =]
loving my fringe ,
my naval piercg
& my tatts more !
honestly , afraid of the swine flu that killed 99ppl so far .
5 cases of h1n1 in sg within a week ,
what else wouldnt you expect from it !
think about it !
am not afraid of getting it ,
but just don wanna be quarantined !
or worst , die from it !
here comes my paranoi again !
all due to red riding hood again .
really addicted to my sims kingdom , ds game !
wanna start on gourmet chef soon !
and also , america's next top model
then , hell's kitchen and maybe picross .
GAMES !!!!!
bought a new top at club21bazaar .
now slightly happy ,
but looking forward for a new bikini ,
then seafood
and finally , ready to start Beeeeaaaacccchhhhiiinnnngggg !

ytd went east coast to have dinner ,
as usual , i only had red sea bass with sambal
then saw a new surf shop there , so went to take a look .
i saw the most cutest nicest bikini
which i think that i wanna get it straight after i saw it !!
but it's like $85 for the bikini set and $65 for the shorts
(or vice versa, whichever ! i want both of it !)
i saw Marshmallow !
we gave each other a big hug+squeezin of the cheeks and we gotta go .
til now , i stil think that i was dreaming .
it really make me feel that the world is small !!
thanks whoever that lead us to have dinner there and we bumped into each other !
ok , that's FATE . i guess .
misses her so much !

anyway , tomorrow meeting HP for K's pres shopping .
then wed night , K's bbq !
sat afternn , helping G , dinner time with daddy .
looking forward to sun !!