busybecca*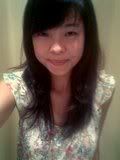 This time,
I wonder what it feels like,
to find the one in this life,
The one we all dream of,
but dreams aren't just not enough.
So I'll be waiting for the real thing,
I'll know it by the feeling,
The moment when we're meeting,
will play out like a scene,
Straight off the silver screen.
Screams

The way to love anything is to realize that it might be lost.
shops!
blackmarket 19 Jalan Pisang S199084 (along Victoria Street)
hide&seek
trolley
doinkydoodles
runway-mayhem
Saturday, October 10, 2009
jus wanna post about my grandma .
she told me she might wanna sell away
the current house and get a smaller place .
but she asked me the weirdest question of all ;
'if she were to move , would i stay with her too .'
omg , soooo silly of her .
i've already made my decision to stay with her forever !
11days more ! exams ....
later , gotta work at 4.30pm !
janah taking the first shift
so can go over see her for awhile .
nothing to post already . i have , just dowan to .
tata~